Why Ringo?
Attention this will sound like a sales article!
However, I will honestly add some of my thoughts on whether it is worth buying our service.
Ringo lock is really not suitable for everyone, as it is mostly suitable for Airbnb hosts in multi-apartment buildings in the cities.
Why?
Because firstly in these multi-apartment buildings you do not have any lock boxes to store keys inside or have any permission to instal it, but guests need to unlock two or even three doors to enter your apartment. First the building door (communal door) and the door of your apartment. In some cases, there are another (third) door to separate hallways.
So, Ringo is right for you if:
you have an apartment for rent and this apartment is located in a multi-apartment building (block building),
you don't have much time or don't live close by your accommodation you rent out,
you work with external contractors e.g. cleaning service, apartment management, tourist agency etc.,
you would like to keep entry statistics, e.g. check-in, check-out for better work load optimization
Would you like some more information?
Ringo will not work for you if:
you rent out the house (you can still use Ringo, but you can simply use a lock box),
you have an apartment in a multi-apartment building with a direct door access (one key to enter). You can use any smart lock device which you can install by yourself.
you are not a tech savvy person and new technology is a burden to you, although Ringo could change your mind.
you swear by the warm in person reception of your guests. It is nothing wrong with this approach, maybe now with Covid pandemic it can be a bit awkward.
you work with an agency that takes care of everything. But maybe the agency would be interested in Ringo 😉
So, if you are the person pro Ringo and you you would like to kno how Ringo works please visit our blog post about it: LINK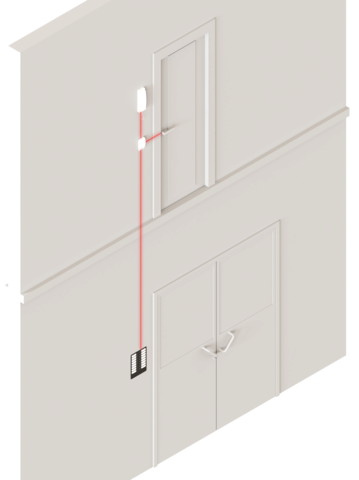 If you are not interested in Ringo, but you would like to learn some alternative ideas how to creatively deliver keys to your guest, keep reading.
As I mentioned it in our previous blogs I had quite a few ideas at the beginning as a host of my first Airbnb, before the Ringo, on how to tackle hospitality. Ideas are creative, which means that it depends on circumstances, which may differ from place to place, people, culture, etc. Be warned and remember that all of the ideas mentioned below only worked temporarily, at least for me. Maybe they come more in handy for you… if not, Ringo is still an option.
How to hand over the keys to your guests when you don't have time or you won't be near the accommodation when they arrive?
Ideas:
• you can make an agreement at a nearby bar, newsagent, petrol station, etc. to keep your keys for a fee. Of course, this is risky, because you have a verbal agreement which is not secure. In addition, sending guest to a local bar to pick up keys it can be awkward. Make sure the place is friendly. You should also pay attention to the change of staff and consider whether this is the right experience for your guest. It was not a good experience for my guests so I stopped leaving keys there.
• Cleaning service – depending on the relationship you have with the cleaner(s), you can arrange the delivery of the keys with them. Maybe for a certain cost they can deliver and pick up your keys. If you have trust issues, or valuable things in your apartment maybe you better avoid it. I used this favour only a couple of times, when I was in a rush, and the cleaning guy solved my problem.
• Alternative "not-quite-legal" key delivery solution: If you have a mailbox large enough, you can install a small lock box in it. Of course, the mailbox must then always be open, which is not okay when it comes to mail coming to your address. The lock box inside is usually without electricity, which means you still need to walk to the accommodation and change the code after each visit, which is the same as handing over the keys in person. Or gamble with the same code, which I don't recommend. The lock box also needs to be fastened very well, and the space in the mailbox does not allow you many options.
• Door safe-hanger: If you have a lever on the main door, which is in a completed shape (end to end stuck to the door), then you can install a safe-hanger where you store the keys. Or if you can't put it on the door, try to put it somewhere else. Tell the guest to unlock it to get the keys out and to return it back after check-out. It is recommended to change the code after each use, which means that you still have to walk to the accommodation and change the code after each visit.
• Do you have enough family members, a neighbour, a manager or an agency to take care of your accommodation? The question already tells you the answer. There are usually additional costs for external collaborators. Just be careful because at many agencies, guests have to pick up the keys at their location beforehand, which can be far from the accommodation. Make guests aware that they need to stop at the agency first, to collect keys, which might not be okay for their experience if they do not know this.
• How and where can the guest return the keys? The guest can return the keys back to the bar, cleaning service or to your mailbox. If in the latter, someone must pick up these keys and hand them over to a third party for collection or delivery. It is very easy to break into the mailbox, so be careful!
I hope the creative ideas are to some good use for you or if you like your life simple just use the Ringo solution that solves all of the above mentioned issues with no stress 😉