Let's Compare
Best Smart Locks of 2023
with Ringo
Published 12th August 2022; revised 3rd July 2023.
In today's dynamic world of hospitality, smart door locks have become an indispensable element of the modern guest experience.
These amazing devices can simplify your business, offer additional value to your guests and at the same time create additional savings! How is this even possible?!
Smart locks allow your guests to enter and exit freely, as well as track property management services and give property owners real-time tracking and an elevated sense of security.
Are you ready to streamline your renting property?
We prepared a comprehensive comparison of smart locks that are currently found on the market. Our focus was primarily with their use in short term rental accommodations (like AirBnB and Booking.com). Discover the future of hospitality.
Best Smart Locks of 2023 – comparison table
| | | | | | | |
| --- | --- | --- | --- | --- | --- | --- |
| Feature | Nuki | August | Yale | Danalock | Tedee | Ringo |
| Specialised solution for short term rental | ❌ | ❌ | ❌ | ❌ | ❌ | ✅ |
| Opens building and apartment doors * | ✅ | ❌ | ❌ | ❌ | ❌ | ✅ |
| No app to unlock doors (click & open) | ✅ | ❌ | ✅ | ❌ | ❌ | ✅ |
| Remote door unlock ** | ✅ | ✅ | ✅ | ❌ | ✅ | ✅ |
| Fits to all doors | ❌ | ❌ | ❌ | ❌ | ❌ | ✅ |
| Use of your old keys | ✅ | ❌ | ✅ | ❌ | ✅ | ✅ |
| Fits to all intercoms | ❌ | ❌ | ❌ | ❌ | ❌ | ✅ |
| Online Check-in (integration with local authorities) | ❌ | ❌ | ❌ | ❌ | ❌ | ✅ |
| Wifi and Mobile (sim) data | ❌ | ❌ | ❌ | ❌ | ❌ | ✅ |
| All new features included (always) | ❌ | ❌ | ❌ | ❌ | ❌ | ✅ |
| Channel Manager integration | ❌ | ❌ | ❌ | ❌ | ❌ | ✅ |
| API integrations *** | ✅ | ✅ | ✅ | ✅ | ✅ | ✅ |
| No building manager permission required | ✅ | ✅ | ✅ | ✅ | ✅ | ✅ |
| Pay per use | ❌ | ❌ | ❌ | ❌ | ❌ | ✅ |
| Local support**** | ❌ | ❌ | ❌ | ❌ | ❌ | ✅ |
| Lifetime warranty | ❌ | ❌ | ❌ | ❌ | ❌ | ✅ |
* Nuki opener can open building doors, but you have to ring a proper bell. How it works is that anyone can ring and enter the building, even the uninvited guests!
** Remote door unlock is supported only if a smart lock has this feature or you purchase additional wifi bridge, that a smart lock is connected to wifi. Ringo is a wifi solution from the start.
*** API integrations are mostly used for a smart home appliances with Nuki, August and other smart locks and they do not provide personalisation like Ringo, where we specialise in short term rentals.
**** Local support might be available by some companies, but most of the smart lock companies sell their locks online with no local support in place. Ringo always finds a local partner to provide a you support.
Interested? Get more information!
Deep Dive into Smart Locks
(Self)-Installation
Most smart locks require self-installation (DIY). While this does save you money… it opens up other issues.
Installation takes time, patience and a certain level of skill too. Ask yourself: are you prepared to invest your precious time in hardware tinkering?
Do you even have all the tools? Are you ready to follow complex installation manuals?
To be assured your smart lock is installed properly, we believe that it should be installed by a trained professional. Not wanting to create a scare, but this is the entry point into your property. Are you willing to risk the smart lock not working properly, especially while you are away with no way coming back, make guests waiting?! Probably not.
That's where Ringo sets itself apart. We understand the significance of proper installation. Ringo is installed by a trained professional. 
"Do I need permission from a building manager?"

The most frequently asked pre-sale question!
NO!
Ringo does not interfere with a building intercom system and it does not change your locks in any way.
First, Ringo is installed in your apartment and not in the building hallways.
Secondly, Ringo is connected only to your intercom handle. It is like when you click that intercom button when you want to let somebody that you know into the building, but instead of you, now Ringo is clicking that button 🙂
BUT BEWARE, most of the other smart locks are connected to your intercom in another way where you would need a building manager's permission. In example, Nuki Opener, requires your visitor to ring your doorbell (building intercom) in front of the building to open the building doors. But in this case, anyone can ring your doorbell and can enter the building without permission and you have no control who entered and when!
With Ringo this does not happen, you always control who and when can enter the building and you apartment.
"App or NO app?"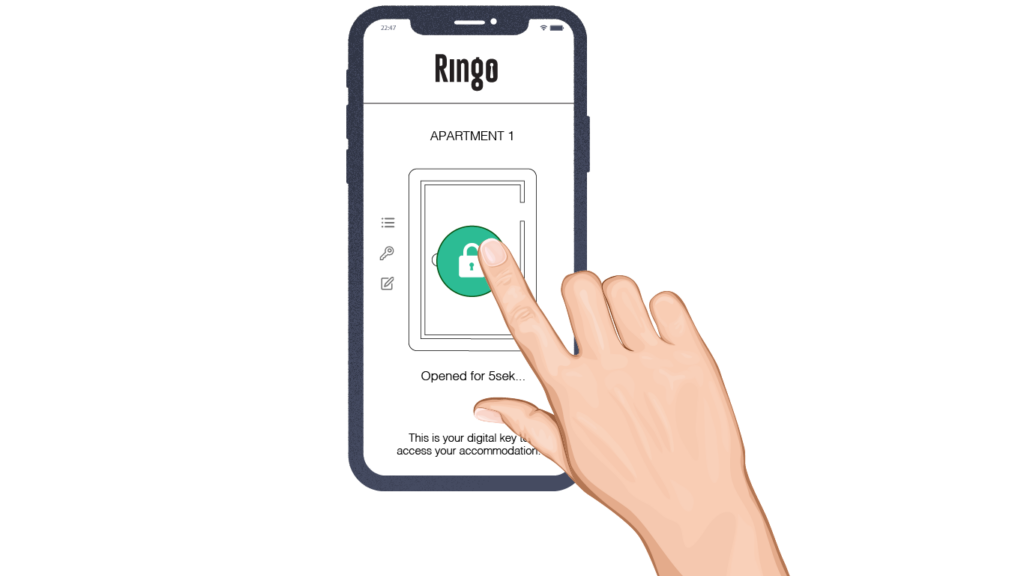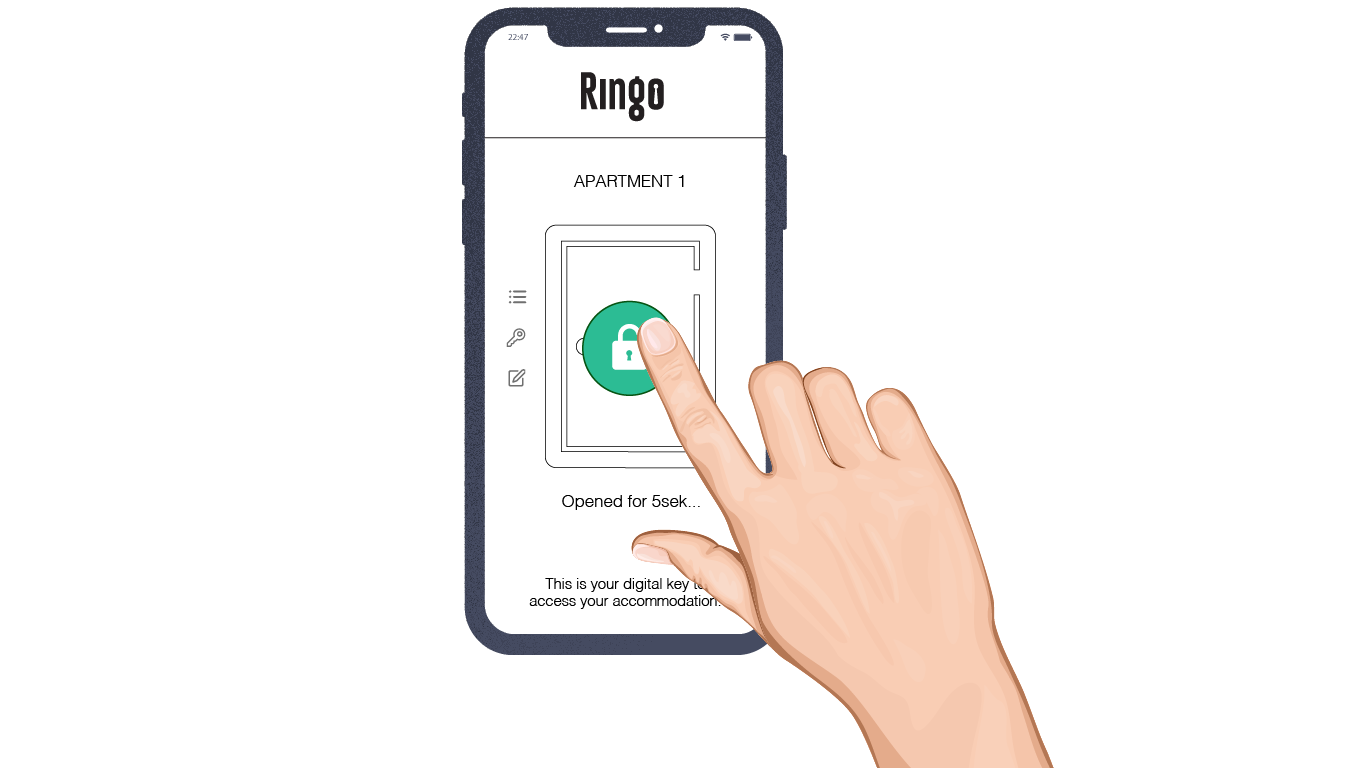 With the freedom of opening smart doors, you will most definitely need an app! All of the smart locks we researched and tested require a custom app to work.
So imagine… your guest is standing in-front of the doors, downloading and installing an app, then completing registration and then activating their account… and only then they get to open the door. They have just lost precious time and probably some nerves. And it doesn't end there … Next time they come to visit they need to update the app, reauthorise their account for security reasons, or even download "a new, even better" app. Not exactly the seamless experience you'd hope for, right?
Now imagine, that there is NO app!
With Ringo Lock you send a short link that requires your guest to click "Open" and the doors open. Simple! No app and no registration. It takes 5 seconds, it's fast and efficient.
Compatibility with multi-apartment buildings
Residential multi-apartment buildings are secured by entry doors that can be opened via intercoms. This security feature keeps unwanted guests at bay … But what about your guests? They need access too!
There are smart locks that offer the options to unlock intercom entry doors, but beware some smart locks automatically open the intercom entry doors by just simply ringing the apartment doorbell.
Sounds convenient? Well, not quite. The doors open for anybody that rings the doorbell! Anybody! Even burglars! NOT GOOD! Hopefully neighbours won't find out about this unsafe feature of your smart lock.
Ringo Lock takes security seriously and without necessary ringing door bells.
With Ringo you control who can open the building doors, so you will always know who entered and when, there are no surprises.
Ready to learn more? Explore all Ringo Lock's features.
Power source – are batteries reliable?
Most smart locks are battery based. This is convenient for a simple setup, clean installation, no cables – simplicity just like we like it!
Smart locks consume the most energy during two key phases of operation:
during setup (Bluetooth pairing or Wi-Fi setup)
and when they are in active operation – locking & unlocking.
Rest of the time they remain in stand-by mode, conserving energy, patiently awaiting the needs of guests.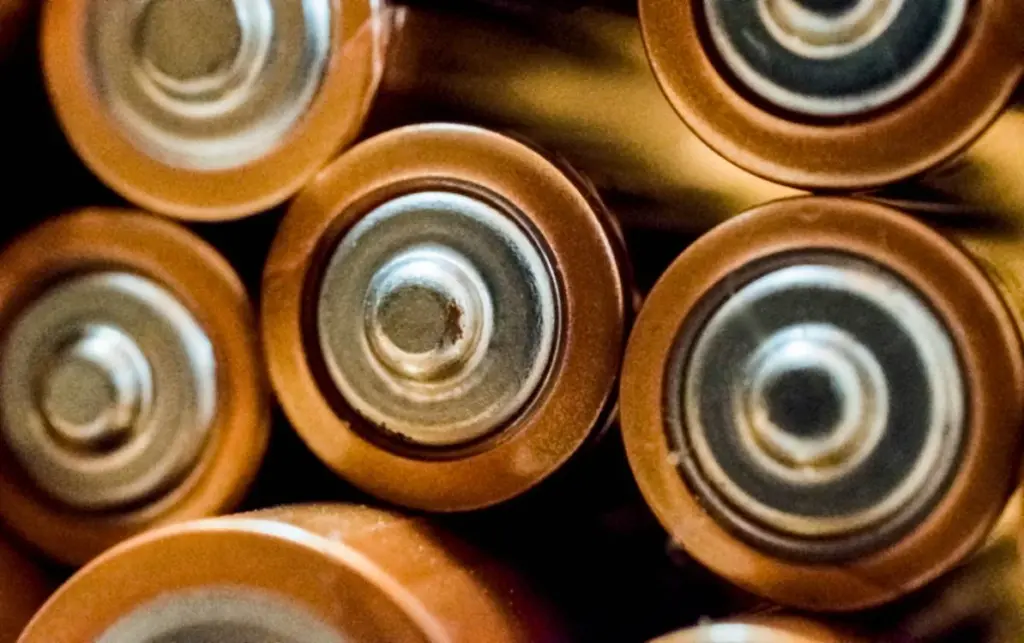 This makes batteries an attractive choice – almost an obvious choice.
Nevertheless here also lies the weakness of battery operated Wi-Fi smart locks.
Wi-Fi networks are prone to occasional (or frequent) instability. When disconnected, devices search for networks and diligently try to reconnect as soon as possible. This constant search for a connection consumes battery power rapidly, potentially leading to inconvenience.
Some smart locks also use motors to drive cylinders for locking and unlocking. Although this is a sleek solution it is very dependent on the battery voltage. And as batteries age or get frequent use, they quickly drain the batteries power. This leads to operational glitches that can lead to guest disappointment.
Ringo is a smart lock powered by electricity!
Constant power supply deals with Wi-Fi instability without any problem for long-term operation. And since Ringo does not use motors to engage the cylinder lock there are no interruptions in frequent use.
What about when electricity goes out? Well, f there is no power, there is also no wifi, so why use battery powered locks then? 😉 Alternatively, you can always resort to using your traditional keys.
One-time purchase or Subscription service?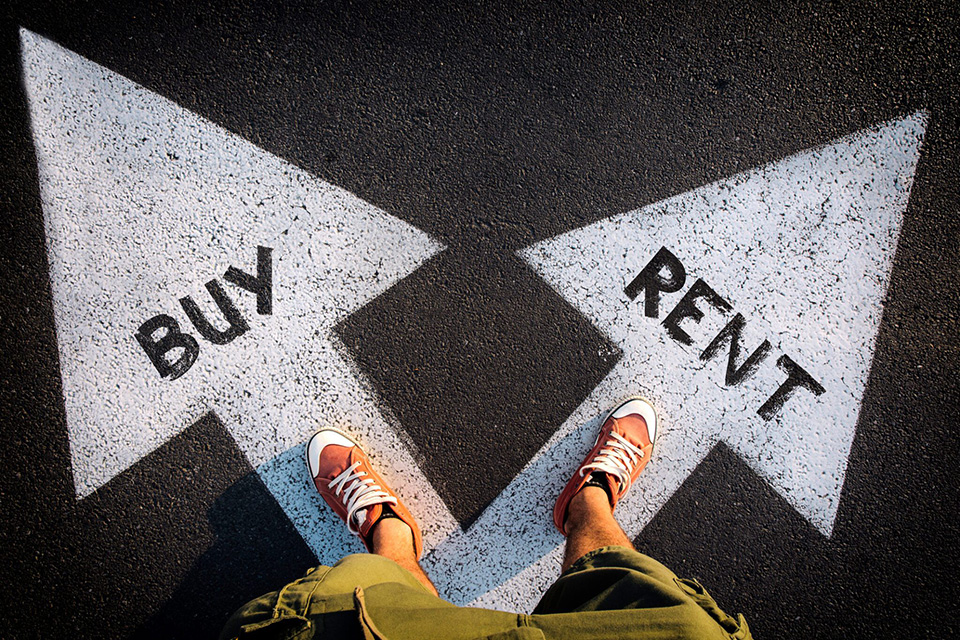 Clash of two philosophies – should you buy or rent your smart lock?
Today we rent almost everything (entertainment, cars, furniture and even clothes). However, there are still those who relish the idea of ownership.
They purchase their new smart lock online, self-install it, troubleshoot issues and take pride in maintaining it by themselves – there is a special feeling of owning hardware – we call it the "I-did-this" feeling! And then you receive an email from your smart lock provider: "Better, improved and with even more features – Smart Lock V2 is here!"
You've just managed to get everything working as it should and now your Smart Lock V1 feels outdated. What would you call this feeling?
Ringo is available only as a subscription service. And when updates roll out … they're handled over Wi-Fi, automatically, 100% free, no need for the user to do anything. All new features and support included for all subscribers without any additional upgrade fees.
Subscription on a door lock you say… So if you don't pay, you can't open your doors?
Well … no. Let us tell you a story of Petra.
Meet Petra
Petra is a busy professional living and working in the city. But she also owns a seaside apartment with Ringo Lock installed.
During the summer season (June-August) she rents via AirBnB it to guests from all over Europe. Guests use Ringo and Petra issues a new digital keys for each visit.
And then the summer season ends… the guests leave and her apartment stays empty … stays empty all September, October, November, December, January, February, March, April and May… That's a lot of months… 9 months in total. That's most of the year!
And what about Petra's Ringo subscription? Does she pay for all that time and while not using Ringo?
Well … the answer is no!
Petra chooses her Subscription of Ringo for the winter season (pay per use). She, her family and her friends continue to use the apartment. They use the regular old keys – which still work as they always have – completely free 😀
That's the magic of Ringo – you subscribe or pay per use only.
I manage more Airbnbs and with Ringo I better optimise my external collaborators (cleaning service, laundry, etc.) as I save time from running around.
I am renting out an apartment via Airbnb, in a multi apartment building. Ringo helps my guests enter without a key, both in thru the building entrance door and as well in the apartment.
An elegant solution for apartment buildings, it greatly simplifies the workload of renting out an accommodation. Convenient installation and great support along with great features. I recommend!
Still not convinced? Express your concern …