RINGO does not interfere with your door, you can still use your keys if you want.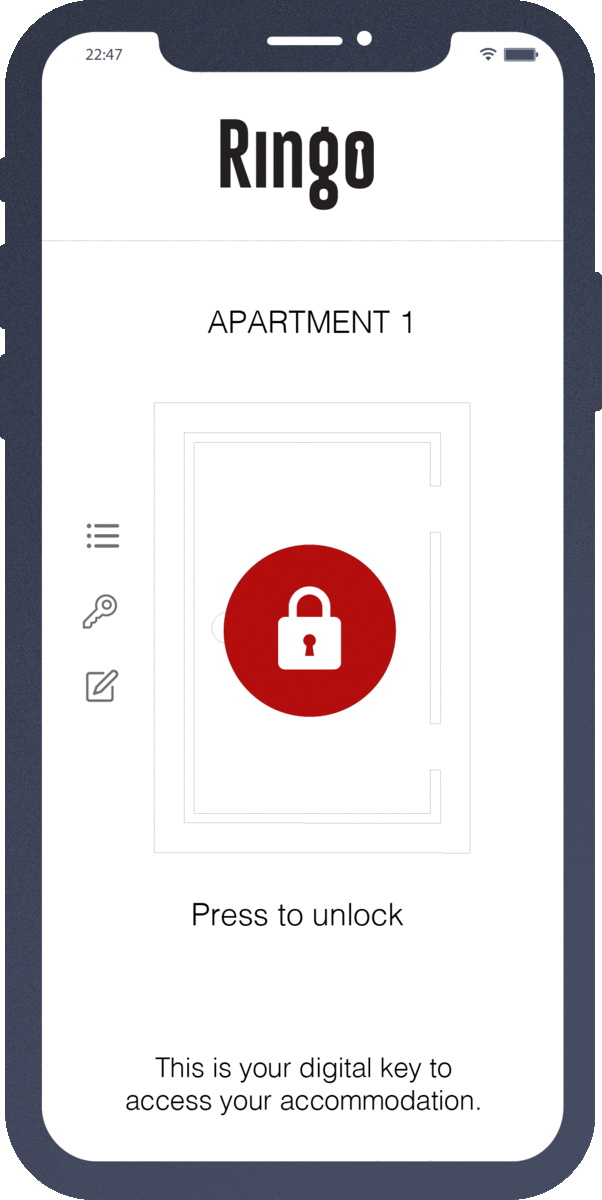 I manage more Airbnbs and with Ringo I better optimise my external collaborators (cleaning service, laundry, etc.) as I save time from running around.
I am renting out an apartment via Airbnb, in a multi apartment building. Ringo helps my guests enter without a key, both in thru the building entrance door and as well in the apartment.
An elegant solution for apartment buildings, it greatly simplifies the workload of renting out an accommodation. Convenient installation and great support along with great features. I recommend!
How does Ringo work?
Ringo consists of a box (device) and a service.
1. Ringo digitizes your door, which means your door can be controlled remotely.
2. You open your door with your mobile phone or share a digital key.
What are the Ringo features?
+ unlocking the door remotely via mobile phone
+ granting time-limited digital key to your guests (or others), for example a guest enters the apartment and his digital key expires on the day of the check-out. After check-out, he can no longer enter the apartment.
+ guest can enter 24/7 (A must have for Airbnb Plus)
+ entry logs
+ online check-in for upcoming guests
+ For companies: employee check-in, check-out
What is a digital key?
Ringo digital key acts like a classic key that unlocks the door.
Digital key is basically a one way secure connection that unlocks the door remotely.
A guest receives a digital key via email or text message. Guest activates it by clicking on it, it shows the picture of the door like the picture on the right. Guest clicks the red lock button and the door opens for 5 seconds. A guest does not need an app.
More info: https://www.ringolock.com/ringo-digital-key/
Can I still use my old keys after Ringo installation?
Yes. Ringo in no way affects or alters your current lock. You can still use the old keys at any time or use them as a spare.
Can Ringo be used for sliding doors?
Ringo is suitable for all types of doors because it works independently of the door and the lock. All doors are made according to certain standards and if your door meets international standards, then Ringo is suitable for your door. In case of any deviations of your door from the standard, we recommend that you consult the Ringo team before purchase: info@ringolock.com
Get in touch
Before the next guest arrives who wants a contactless visit, contact us and we will be happy to present how Ringo can help you upgrade your business.